Every60Seconds.com
Every60Seconds was a promotion by Mountain Dew and Microsoft for their new Xbox One X system. It was similar to 2005's Every10Minutes and 2013's Every2Minutes promotion.
Every60Seconds Contest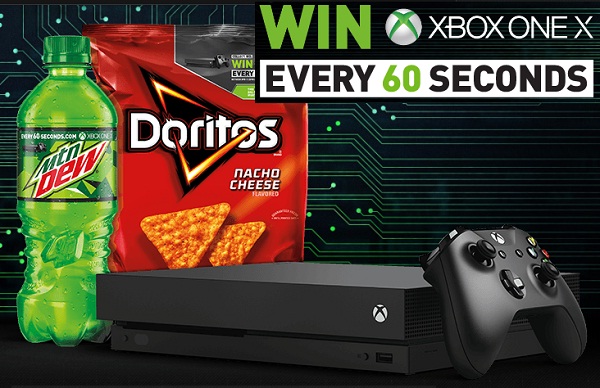 If you haven't heard about Every60Seconds contest then let us tell you Every 60 seconds was a great marketing campaign idea executed by the Mountain Dew, Doritos and Xbox companies who teamed up to promote their products and increase their sales.
Before Knowing How this Every60Seconds campaign work you should check out Wawa and Lowes Customer Satisfaction Survey to win freebies and prizes worth $500
How Every 60 Seconds Works?
All the 3 big brands have collaborated for their product and when you purchase Doritos and Mountain Dew they have a promo code on it.
Now to win Xbox you can enter those codes online to receive entries to be eligible to win the free Xbox One console or games that were drawn every 60 seconds during the promo period.
The on-package codes for the auctions will be available on favorite Doritos snacks and new Mountain Dew products.
From Nov. 6 through Dec. 15, participants can use their points to bid for a chance to win an Xbox One X, as well as other prizes.
Every60Seconds Rules
Per person per email address, one entry is allowed.
Participant must be at least 17 years old or older as of the date of entry.
Every60Seconds Prize
Winners of the Contest get – one (1) Xbox One X console, one (1) Xbox One X game
NOTE – This Contest has ended on Oct 23- Dec 15,th 2017, so the promotion has since ended.
Maybe in the future, we can see some Contest like this. For more Sweepstakes and Coupons you can also refer to other posts of this blog.