Price chopper was known as Central Market in 1932 when it was founded but later in 1973, they have changed the name to price chopper. Its headquarters are located in Schenectady, New York. The supermarket sells products like bakery, dairy, deli, frozen foods, general grocery, meat, pharmacy, sushi, produce, seafood, snacks, liquor, etc. to millions of customers every year.
Price choppers invite their customer to tell their experience as a form of survey. In return, the sweepstake winners will get $500 Gift Card or free grocery for a month. All the details are given in this post.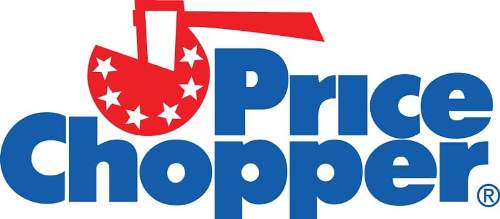 Price Chopper Customer Survey Rules
The sweepstake is open to legal residents of the States of Connecticut, Massachusetts, New Hampshire, New York, Pennsylvania, and Vermont
Minimum age to qualify for the survey is 18
Employees of Price Chopper Supermarkets, Inc., their respective affiliates, subsidiaries, advertising and promotion agencies, dealers and their immediate family members and/or those living in the same household of each are not eligible to participate.
Void outside of CT, MA, NH, NY, PA, VT and where otherwise prohibited.
Winners will be selected in a random drawing each month from among all eligible entries received during the prior month.
Odds of winning are dependent upon the number of eligible entries received during the prior month.
Winners will be notified by phone, mail and/or email at Sponsor's discretion.
Sweepstake reward is non-transferrable and can't be converted in cash.
There is a limit of one (1) prize per person
Grand Prize winners will be required to respond to the Sponsor within ten (10) days after first notification attempt.
Price Chopper Sweepstake Reward
1 eligible winner will be selected each month of the Promotion Period to be awarded "Free Groceries for a Month" in the form of $500 in Price Chopper / Market 32 gift cards
Price Chopper Sweepstake Deadlines
Sweepstake begins on May 1st, 2019
Sweepstake Ends on April 30th, 2020
Steps to take Price Chopper Sweepstake
This survey has 2 methods to enter: Enter online & Enter without making a purchase
Enter the survey online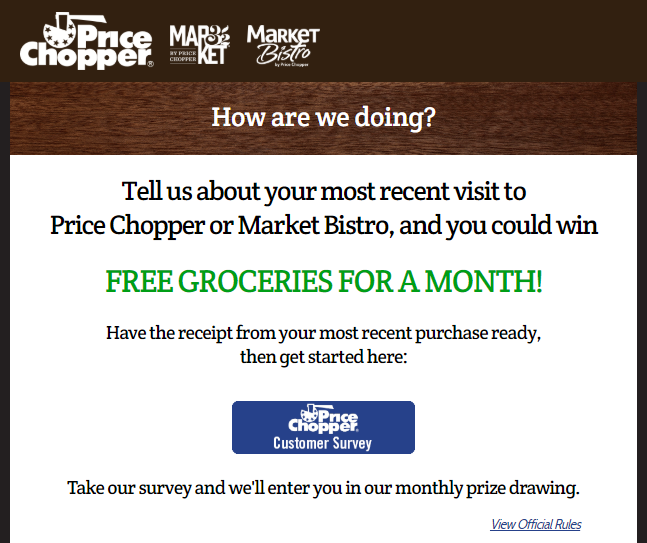 Make your recent purchase receipt ready
Visit the official prince chopper survey site – http://www.pcopinion.com
Click on the start link and on the next page enter Store Number, date, time of visit, Order Number (Please include all leading zeros in this number) and total amount paid and click on Continue to enter the survey
Once you enter the survey answer all the questions asked and rate overall experience.
Submit the survey form and wait for the sweepstake drawing
HOW TO ENTER FOR FREE WITHOUT MAKING A PURCHASE:
In this method Handprint your name, complete address, zip code, daytime telephone number, including area code, on a 3″ x 5″ piece of paper and mail it in a #10 envelope to:
"Price Chopper / Market 32 Customer Experience Survey Giveaway – Free Entry",
Fact Finders, Inc., 2010 Western Avenue,
Albany NY 12203.
Entry requests must be postmarked and received by April 30th, 2020.
Note – Limit of one (1) entry request per postmarked outer envelope up to a maximum of one (1) entry request per person, per seven day period, during the Entry Period.
This sweepstake sponsor is The Golub Corporation, 461 Nott Street, Schenectady, NY 12308
To check the names of winners send a self-addressed, stamped envelope by May 1st, 2020 to: The Golub Corporation, "Customer Experience Survey Giveaway", 461 Nott Street, Schenectady, NY 12308.
For more information, you can check price choppers official site – https://www.pricechopper.com