GoodCents is one of those few Subs restaurants who bakes their own bread like Subway. The company was founded by Joseph Bisogno.
His story is very interesting, He started his entrepreneurial journey at the age of 6 by running a lemonade stand then after at 18 he'd bought an ice cream truck, and later purchased a gas station. In 1989.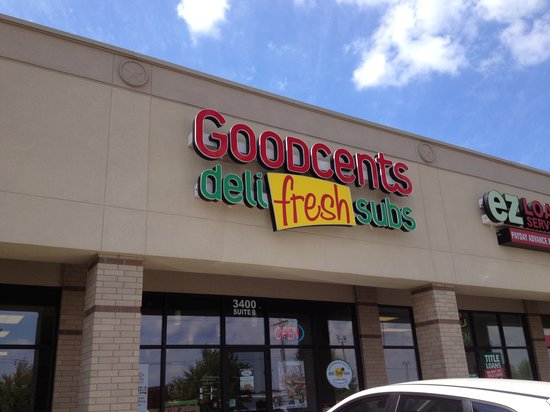 Company's main motto is to deliver the best quality and fresh subs and appetite. Recently on February 28, 2019, they have celebrated their 30th Anniversary
If you have recently visited any Goodcent's restaurants than here is a golden chance to win $500 by just filling a simple customer satisfaction survey of Goodscents. Details of the sweepstakes are as follows.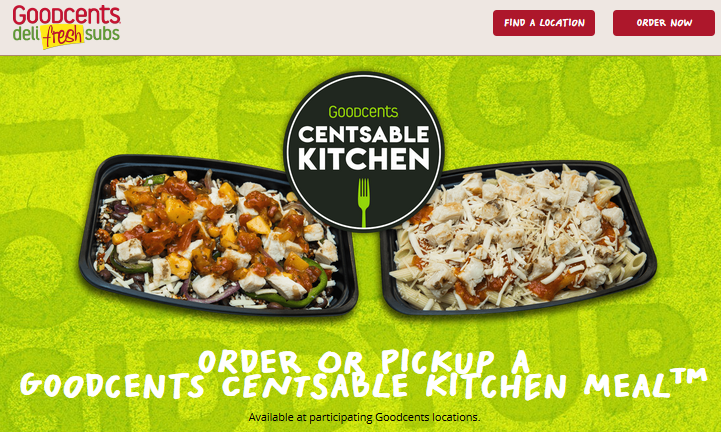 You can also check out other Food Survey who are offering $500 – $1000 prices.
GoodCentSubs Sweepstakes Rules
Minimum age to take part in the survey is 18
The Survey is open only to legal residents of the 50 United States and the District of Columbia
Employees of the company and their respective affiliates, subsidiaries, advertising, promotion, and their immediate family members and those living in the same household of each are not eligible to take part in the survey.
Void where prohibited by law
Sweepstake reward is not transferable
A person can use only one (1) email address to enter online
Limit one (1) online entry per email address per Entry Period
Limit one (1) prize per household.
For Complete Survey Rules SEE THIS PAGE
GoodCentSubs Sweepstakes Deadlines
There are 2 Entry Periods. First Entry Period will begin on January 1, 2019, and end on June 30, 2019
The second Entry Period will run from July 1, 2019, until December 31, 2019.
It means Sweepstakes begins on January 1, 2019, and ends on December 31, 2019
Sweepstakes Reward
Two (2) Grand Prizes (1 per Entry Period) – A $500 check made payable to the winner.
Prizes consist of only the item specifically listed as part of the prize.
How to enter the survey?
Like other surveys, there are 2 ways to enter the survey: ONLINE & Offline
Enter the Survey Online
Once you purchase any food or beverage item at a participating Goodcents Deli Fresh Subs restaurant then you will get a cash receipt and there you will find survey site details: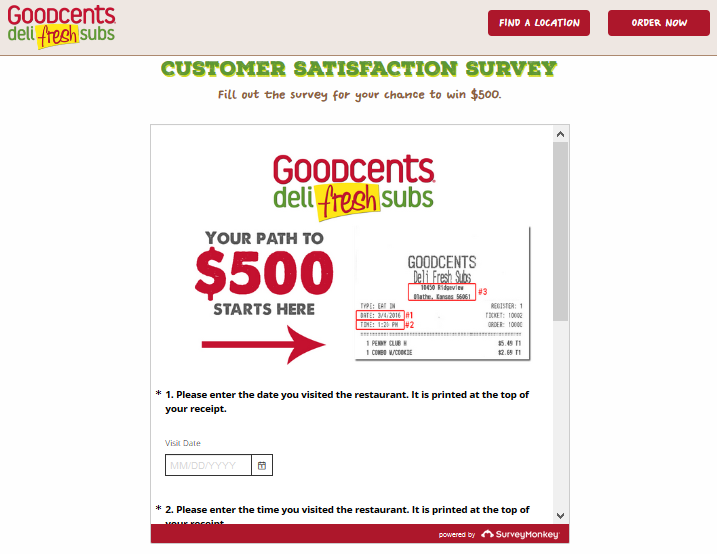 Once you have cash receipt visit the official website of the survey – https://goodcentssubs.com/customer-satisfaction-survey
Now enter the date you visited the restaurant and then enter the time of visit
After that select the location of the restaurant from the list and click on NEXT to start the Survey
In the survey, you need to provide your feedback
Once you finish the survey you will be given further information regarding sweepstake
Enter the Survey by Mail
To enter the sweepstakes without purchase, on a plain piece of 3"x5" paper, hand print your first and last name, street address (no P.O. Boxes), city, state, zip code and date of birth (mm/dd/yyyy).
Mail your entry in an envelope no larger than #10 (business-size envelope) with sufficient postage affixed, to:
Goodcents Deli Fresh Subs Survey Sweepstakes,
8997 Commerce Dr, De Soto, KS 66018.
NOTE – One (1) winner will be selected for each Entry Period from among eligible online and mailed entries received for that Entry Period, within approximately five (5) weeks from the end of each Entry Period. Random drawings will be conducted by Goodcents Deli Fresh Subs through a randomized computer program.
You can see the Past Winners List HERE
How to contact GoodCentsSub?
You can Contact the Team:
Phone: 800 648-2368 or Visit their Contact us, Page.