Swiss Chalet is a Canadian chain of casual dining restaurants started back in 1954 in Toronto, Ontario. The signature dish of the restaurant is rotisserie chicken. The parent brand of the swiss chalet is  Recipe Unlimited, which also owns the fast-food chain Harvey's.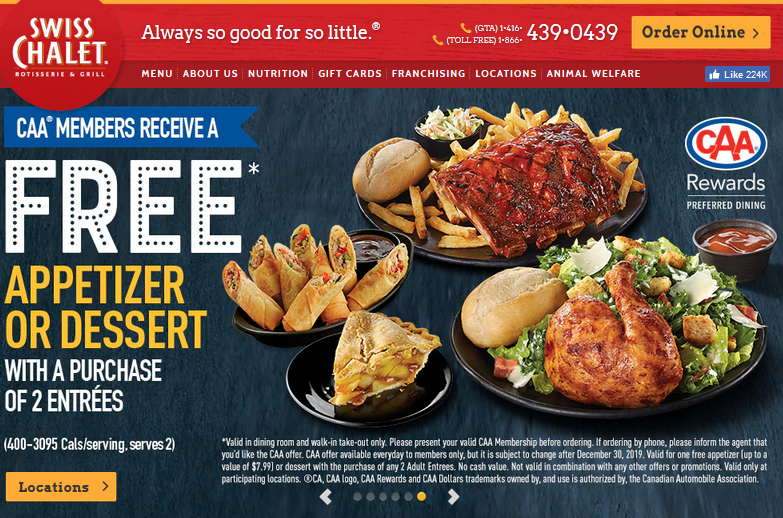 If you are looking for swiss chalet guest satisfaction survey guide then you are at the right place. In this post, you will complete details regarding swiss chalet feedback and steps to take the survey. We will also recommend you to kindly read their privacy policy and survey rules before you start the survey.
Swiss Chalet Feedback Rules
A basic understanding of the English language is required
Minimum age to enter the survey is 18
A Working internet connection is required to take an online survey
The Swiss chalet Sandwich coupon code will valid for only 30 days
A purchase receipt is required for the online survey
Only one receipt can be redeemed only one time
Employees of the company, staff members and other director or office members are not allowed to participate in the Swiss chalet Customer Survey.
Coupon code can't be redeemed in the cash and non-transferable
Swiss Chalet Feedback Reward
A Swiss Chalet Validation Coupon will be given to the winners
Steps to take Swiss Chalet Feedback Survey
Before taking an online survey you need to make your purchase receipt handy to enter the survey code.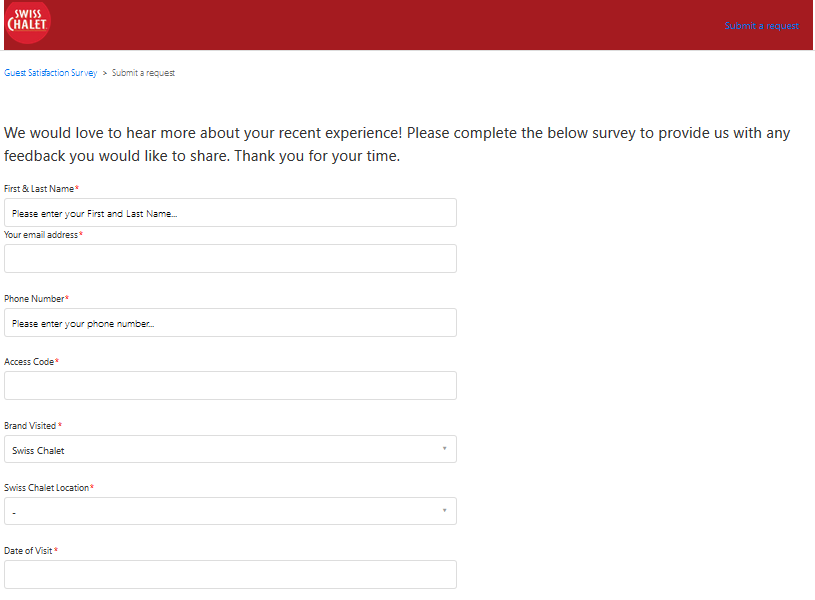 Visit the official survey site which is swisschaletfeedback.com (The survey is powered by ZenDesk)
Now you need to enter details like first and last name, email address, phone number, access code, visited brand, swiss chalet location, date of visit, check number and dining experience type.
Now once you enter all the details next step is to provide your feedback and comments regarding their customer service and product. speak your mind and tell them what you really think about your overall experience, this will help the company to make appropriate changes in their services and product in the future.
After completing the survey you can submit the form and you are DONE!
For more inquiry, you can visit their official site which is www.swisschalet.com or you can call them on 1-866–439-0-439 or 416-439-0-439