Bahama Breeze is an American restaurant chain specialized in Caribbean food. The chain is owned by Darden Restaurants and founded in 1996. The restaurant serves seafood, chicken, steaks, and tropical drinks. Currently, the headquarters of the chain is in Orlando, Florida, U.S.
If you want to win a cash prize up to $1000 then Bahama Breeze sweepstake is for you. You just have to provide your honest feedback and the detail of how to take the survey is given in this post.
Bahama Breeze Survey Rules
The survey is open only to legal residents of the 50 United States and the District of Columbia ("U.S."), Guam, Puerto Rico, and Canada (excluding the Province of Quebec)
Minimum age to enter the survey is 18
Employees, officers and directors of GMRI, Inc. (the "Sponsor"), its franchisees, affiliates, subsidiaries, advertising, and promotion agencies, and the immediate family members (spouses,
siblings, children, parents, grandparents, grandchildren and spouses of the foregoing, regardless of where they live) or members of the same households (whether related or not) of such individuals are not eligible.
There is no limit to the number of times you may enter online or by mail, however, each online entry must have a different survey code and each mail-in entry must be mailed in a separate envelope.
Sweepstake reward is non-transferred
Winners will be notified by telephone, email and/or postal mail.
Bahama Breeze Sweepstake reward
One (1) Grand Prize consisting of $1,000 USD cash to be awarded in the form of a check.
One hundred (100) Second Prizes, each consisting of $50 USD cash to be awarded in the form of a check.
Bahama Breeze Sweepstake Deadlines
Sweepstake starts on August 26, 2019
Sweepstake ends on November 24, 2019
Steps to take BahamaBreeze Survey
There are 2 entry methods
Enter Online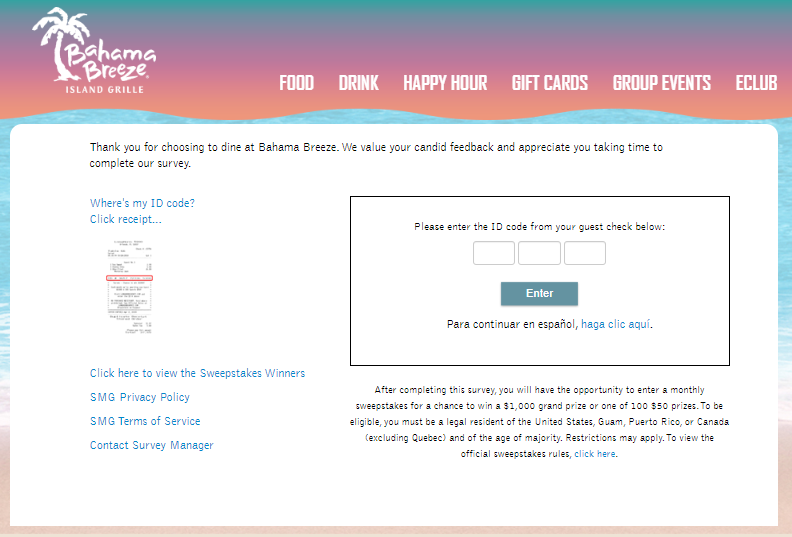 This method required a recent receipt from your latest Bahamabreeze visit
Visit the official Bahama Breeze survey sites – bahamabreezesurvey.com
Now on the survey homepage enter the ID code from your Guest Check and click on START to enter the survey
Once you enter the survey follow the instructions and complete all the steps by answering the questions asked and rate your overall experience when required
Once you finish the survey submit the form and you will get a chance to enter the sweepstake
Enter Offline by Mail
In this method Hand print your full name, complete address, telephone number (including area code), and age on a piece of paper, place it in an envelope and mail it to:
Guest Satisfaction Survey Sweepstakes, PMI Station, PO Box 3536,
Southbury, CT 06488-3536 USA.
Note – Mail-in entries must be postmarked by the day following the close of an Entry Period and received by Sponsor within eight (8) days of the close of an Entry Period to be entered in the Sweepstakes.
List of the Previous Sweepstake winners can be found here.
In case if you have any further queries then you can check out their official contact page.
To request a list of winners, mail a self-addressed, stamped envelope to be received within six (6) weeks of the close of the Sweepstakes Period, to:
Guest Satisfaction Survey Guest Satisfaction Survey GMRI Sweepstakes – FY20 Q2, Winner List, PMI Station, PO Box 750-W, Southbury, CT 06488-0750 USA. (Residents of Canada may omit return postage.)